When it comes to casinos, Blackjack has its special place. This respected strategy game attracts pro players from around the world. And, the best way to start playing like a pro is to know the best tips for trying to win.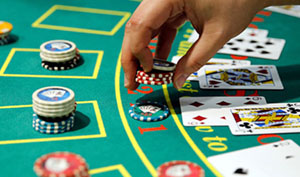 Contents
The tips on this page teach you the most effective ways to win at Blackjack, and with experience, you can become a master of the game. Winning at Blackjack is easily within reach with our expert advice, and even though it applies to local casinos, it's most effective with the
very best online casinos
.
1. Number of hands
Increasing the odds of winning in Blackjack begins with the number of bets and you're allowed to play several hands at the same time. By opting for multiple bets, the odds of winning increase by 0.5% due to the inconvenience caused by removing cards early in the game. The best player usually play three to five hands simultaneously.
2. When to hit in Blackjack?
You've probably seen the terms Hit and Stand in Blackjack. As a player looking to score wins, you need to know all about these two options.

HIT is asking for a new card. STAND is choosing to give up drawing a new card. Keep in mind that if your hand goes over 21, you lose and the dealer wins whatever hand they have. If you get 21 at the start of the game, you get BLACKJACK. This means that you have won 1.5x the amount of your bet.

When to draw a card:
7, 8, 9, 10 or Ace is the dealer's face-up card and your hand totals 8 or 12 to 16.
The Ace is the dealer's face-up card and your hand totals 11.
10 is the dealer's face-up card and your hand totals 10.
7, 8 or 9 is the dealer's face-up card and your hand totals 9.
3. When to stand in Blackjack?
Choosing to stand often happens and is completely justified. Any pro player can make this choice in a variety of easy to remember situations. While amateur players often think that it's necessary to draw cards to win big, the reality is quite different.

Knowing when to pass and wait for the end of a game pays off in three situations:
Your hand's value is 17 or more,
The dealer's face-up card is 6 or less, and your hand totals 13 or more,
You have a pair of 10s or face cards (Jack, Queen or King).
4. When to double?
To double is to place an additional bet equal to your first bet. This option can only be done when the first two cards total 9, 10 or 11.
Doubling a total of 10, unless the dealer has 10 or Ace,
Double up an 11 unless the dealer has an Ace,
9 must be doubled when the dealer has 3, 4, 5 or 6.
5. When to split?
Knowing when to split your two cards is key. Splitting involves placing a new bet equal to the first and is only possible when you have a pair.
Don't split 2 and 3 if the dealer's card is 4-7,
A pair of 5's doesn't split if the dealer has a 10 or an Ace,
Don't split 6's and 7's if the dealer's card is 6 or less,
Always split a pair of 8's,
Always split a pair of Aces.
6. Never take out insurance
The insurance bet is possible if the dealer has an Ace. The object is to bet that the dealer will make BLACKJACK. You have to bet half the value of the bet to get started on this bet. It's not advised to take out insurance because the bet doesn't offer good odds. If the dealer has an Ace, their chances of making Blackjack are around 30%; thus it's an unfair bet.
7. When to Surrender in Blackjack?
At the start of the game, when the player's two cards and the dealer's card are revealed, it's possible to surrender. This choice implies that you get half of the bet and won't play the hand to the end, even though the dealer will lose the game by going over 21.

Since any player's goal is to win, this option may seem surprising, but it is worth it in specific cases. Surrendering in Blackjack is a strong action that demonstrates skill. With some hands, it's better to lose a battle than a war.

The most common case is when a hand is worth 15, and the dealer has a 10 point card (10, Jack, Queen or King). In this case, the casino will definitely win, so giving up is the right thing to do. The situations where you have to give up are:

| Player's hand | Dealer's hand |
| --- | --- |
| 15 | 10, J, Q, K |
| 16 | 9, 10 or Ace |
Exception: if your hand includes an Ace, you shouldn't surrender as the Ace is worth 1 or 11, which is advantageous. It's important to remember that having an Ace often wins.
8. Benefits of playing online
Playing Blackjack online has its advantages over land casinos. Every good online casino has the most popular versions of Blackjack available to its customers. A powerful online casino software allows you to play in comfort from any device (mobile and PC). You can find the list of the best online casinos here – and they also offer a demo mode. The demo mode allows you to play for free, which is a great way to practice in a risk-free environment.
Gaming Club – Premium Blackjack
All online casinos offer Blackjack; however, some are more popular than others. At the top of the list is the
Gaming Club site
. Gaming Club is equipped with a real-life remote gaming room so that you can play live against real dealers.
9. Blackjack payout rate
Blackjack's payout rate exceeds 99%, which is one of the highest at the casino, however that doesn't mean it's easy to win. The only way to make a profit is by mastering the rules and tricks, as well as knowing when to stop playing when you win. If you play for too long in the casino, you risk losing everything. Blackjack may have an attractive payout rate, but the casino still has some advantages.
Casino games payout rate
Slots, which are the most played casino games, aren't the most profitable. Although there are slot machines that pay more than others, Blackjack is still more lucrative. The key return index for a casino game, the RTP (return per player), indicates the percentage of money returned by a game.

Blackjack: +99%
Video poker: +99%
Craps: 98.6%
Baccarat: 98.5%
Slot machines: from 85% to 98%
Roulette : from 94.7% to 97.3%
RTP rates vary from casino to casino. You should only consider the rates recorded by the gambling commissions. The commissions aim to monitor online casinos.
Summary
Blackjack is a card game that needs to be practiced if you want to reach a good level. It's more complex than Roulette, but easier than Poker.

Even just with a little bit of thought in each game, the advantage of the casino is reduced. However, to do this you need to know the basic rules and tips inside out. It's worth a try.