An incredible record jackpot was won on April 5, 2020, by a Jackpot City Casino member. This player became a multi-millionaire overnight, winning CA$ 16,496,347.95 on the Mega Moolah progressive slot – a record win for 2020!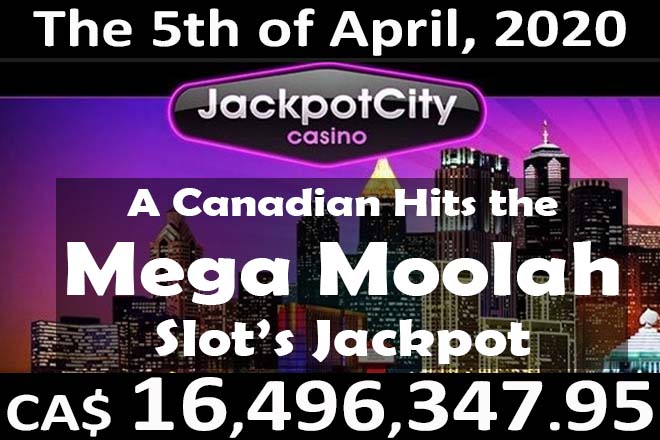 CHECK OUT JACKPOT CITY
Record Jackpot City win
A record win of this size hasn't happened since January 2019. The previous record, a whopping CA$ 20,059,287.27, was won at Zodiac Casino. There have been plenty of other big jackpots won on the Mega Moolah between these two record-breakers, but none above 5 million dollars. In fact, jackpots of 1 to 2 million are often won on the Mega Moolah. Even though the starting jackpot of this progressive game is one million, the prize pool often maxes out at 3 million. However, the win on April 5, 2020, was unique because the Mega Moolah Mega jackpot hadn't been claimed for several weeks in a row.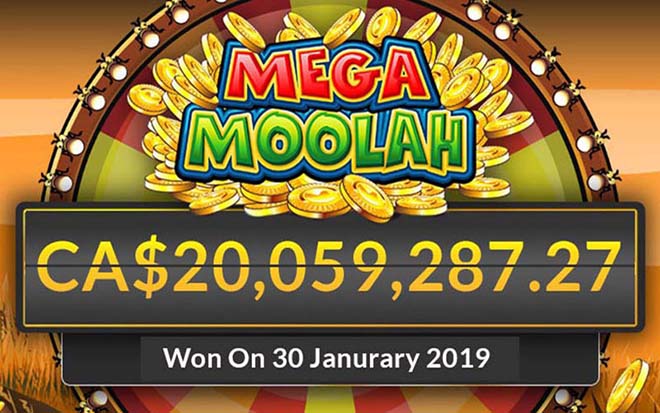 Mega Jackpot winner from April 5, 2020
The only two things we know about the winner of the Mega Moolah Jackpot is that he's from Canada and won the impressive sum at Jackpot City. No other info has been leaked at this time, from either the player or the casino. It's quite rare for a gambler to agree to testify about such a big win. Like with the lotto, when a player wins big, they like to remain discreet and start focusing on their new life.
Mega Moolah – A big winning slot
This progressive online game is the most profitable slot on the market. On the list of Canadian online casinos, this slot machine is the most popular in the world. Mega Moolah's pot starts at 1 million, and with each bet a player makes the Mega Jackpot increases.
Try your luck at Jackpot City
If, like the Mega jackpot winner, you want to try your luck, Jackpot City Casino is highly recommended. Jackpot City Casino launched in 1998, this online casino has a legendary reputation which is highlighted in many reliable guides. With record winnings on the Mega Moolah, this high-tech site is loved by players looking for quality progressive slots.
For those on a budget, you can still get lucky at Jackpot City with just a CA$ 10 deposit. Furthermore, the casino's welcome program doubles all deposits up to CA$ 400. This can be done a total of four times at Jackpot City. Compared to other casino sites that have Mega Moolah in their catalog, Grand Mondial has the best offer and attracts the most players.
Legal notice – Mega Moolah
Microgaming designed the Mega Moolah. This group is the world leader in the online slot machines. Affiliated with major casino sites, users looking for reliable online games can count on their expertise.